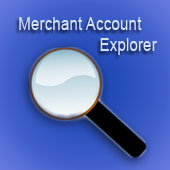 The Merchant Account Explorer (MAE) is in its 6th year of providing U.S. and international businesses both with merchant account reviews, and with recommendations for reliable and trustworthy merchant processing services.

Now more than ever, merchant accounts are a necessity for any business seeking to maximize sales, whether your business:

We recommend the following high risk merchant account credit card processing providers:

In addition, we can also help those businesses which find themselves in a difficult position locating a processing provider. These 'high risk' merchants include:

We take pride in offering you the internet's best selection of reputable merchant services & credit card processors, as well as numerous educational resources.

Where possible, when including information on a particular provider, we try to include the rates and fees that the provider advertises, so you can compare it to other providers and make an informed decision.

Locating the best merchant service so you can accept Visa and MasterCard in your business can be a time consuming and frustrating experience. But remember that making the wrong choice of a merchant service can seriously affect your business – either in unforeseen costs, or in interruptions to (or possibly even a termination of) your processing system.

If you would like us to help you determine which merchant services provider is the best fit for your particular business, simply Click Here to Apply and we will review your information and have the provider that is most suited to your needs contact you by phone or email.

We can be of assistance to you whether:
you are just starting a new business, and are looking for a reputable, low cost processing service for small business
you presently own an offline business, and wish to expand your operations to the Internet
you already accept credit cards and would like to lower the fees you are presently paying
So enjoy our site and let us know if you have any suggestions to improve on it.
We are serious about our commitment to offering you the most professional merchant account reviews and information, so that you can make an informed decision as to which merchant processing service is the right one for your business.
Articles
These days it is pretty well imperative for musical instrument stores to have a merchant account to accept credit cards from your customers. Because a substantial portion of your sales are of a high dollar amount, chances are most of your clientele won't have enough cash on hand to be able to make the purchase. [...]
If you are looking to be able to accept credit cards in your towing service business, we think we can help. For the past 7 years, we have been providing recommendations for businesses nationwide looking for credit card processing services for their tow truck services. The best recommendation we can provide is that you check [...]
The options available for owners of tile, floor covering and carpet stores who wish to be able to accept credit cards have expanded significantly over the past 10 years. Merchant accounts can now be tied to in-store, mobile and internet card transactions. Retail card swipe machines have been around for more than forty years; some [...]
If you operate an art gallery or otherwise deal in art, and are in need of a merchant account, we have a couple of recommendations for you. Both are reputable, established providers of credit card processing services for art dealers and gallery owners. They can offer you processing for in-person transactions with a swipe machine; [...]
The past few years have been a very difficult time for most small businesses in America. One of the side effects of the economic slowdown has been that more and more businesses and their owners now have bad credit scores. But in order to be able to service their customers, almost every business needs to [...]
Is your business looking for credit card processing services for y0ur paint and wallpaper store? Or do you already have a merchant account, but would like to lower your rates? We have been helping paint store owners find an appropriate processing provider since 2006. The best recommendation we can give you is Charge Inc. [...]
If you are in need of a merchant account and credit card processing for your veterinary clinic, we think we can point you in the right direction. While we ourselves don't offer merchant accounts, we have been recommending top merchant account providers to small and large businesses for more than 6 years. And for veterinarians, [...]
Check out this very short video on the topic of credit card processing reviews. Credit Card Processing Company Reviews — powered by ehow As he explained in the video, it is very important for businesses to do their research before choosing their merchant account provider. Providers can differ significantly in regards to the [...]
With the pace of life becoming more and more hectic, families find themselves seeking the convenience of being able to have food delivered to their homes. And with it the need  for having pizza delivery credit card processing services for pizza parlors has grown at a comparable pace. Pizza restaurants that offer delivery services actually [...]
Whether you operate an established hardware store or are a start up operation, you already know that you must be able to process debit and credit cards in your store. If you are looking to save yourself a lot of time in your hunt for a merchant account provider to service your processing needs – [...]
If you are seeking credit  card processing services for your nursery or garden store, we have a recommendation that can help. Our website has been offering advice and reviews of merchant account providers for the past  six years.  There are a couple of providers that have really stood out over those years, as far as [...]
Whether you are  an established photography service or are just getting started in the business, you'll need credit card processing along with a merchant account in order to maximize your sales. And with the explosion of the internet and mobile shopping capabilities, no longer is it optimal for photographers to simply be able to process [...]
Are you an optician or optometrist seeking merchant account services for your business or practice? Well, in today's competitive eye care market, you need to take advantage of every opportunity to optimize your sales and billings. And as you already know, consumers prefer to pay for most transactions with a credit or debit card. We [...]
The birth of the internet resulted in a great boon for dating services for single people seeking partners and relationships. And as a result, the need for merchant accounts for these dating services has mirrored their growth. In recent years, this expansion has resulted in many niche dating services presenting themselves online, and again, credit [...]
If you are looking for an internet merchant account because you plan on selling products online, you're going to need shopping cart software. There are many software alternatives out there for you to choose from, but if you are a newbie to ecommerce you may want to consider going with a system like the Shopify [...]
I found for you a 10 minute video that explains for merchants how the process of accepting credit cards actually works. The video presents a lot of information about what happens from the moment a customer presents his credit card, through to the purchase being authorized and you, the merchant, being paid. It then goes [...]
In the past decade India has come to the forefront as an international business nation. Concurrent to its emergence on the global business scene, a need has arisen for merchant account services allowing Indian businesses to accept credit cards from their customers worldwide. More so than many other nations, Indian businesses deal with [...]
We found a very good YouTube video produced by WebDesk.Co that explains how the various components of ecommerce work together (i.e. the merchant account and shopping cart). The video, which runs about 15 minutes in length, illustrates how they relate to each other, compares some of the options offered, and gives their opinion as to [...]
We have a very good recommendation for those of you looking for a merchant account for your liquor store or outlet. Obviously being able to process credit and debit cards at your store is a must, and our friends over at The Transaction Group have POS compatible processing services that will meet your needs, no [...]
Watch a very short video from Authorize.net explaining what happens when you accept a customer's credit card. The video is less than 2 minutes long, so check it out.
Here at the Merchant Account Explorer, through our experience over the years, we have located some merchant account services that are more open to approving businesses with bad credit. And without a doubt, the best solution we have found is Charge Inc., who have been specialists in helping ecommerce businesses with their processing needs for 16 years.
One of the biggest challenges often facing online entrepreneurs is finding reliable merchant services for their internet marketing activities. When analyzing whether to approve an online business for a merchant account, processing banks evaluate the risk inherent in the applicant's operations. Internet marketers face a hurdle.
Over the past decade India has become probably the world's leader in providing call center and PC support center services for businesses and individuals worldwide. As a result, these call and PC centers have an ever increasing demand for merchant account services, so that they can accept credit and debit card payments from their customers. [...]
Having been involved for almost a decade with websites that review and recommend merchant services, we have consistently found that the biggest challenge is locating responsible providers for businesses that operate in 'high risk' niches. There are certain industries that sell products or services that result in abnormally high levels of customer complaints, chargebacks and [...]
At times electronic stores can have difficulty obtaining or retaining merchant services.
The most common reason is that many products offered to their customers are high end electronics, in the sense that they are priced at several hundred dollars, to thousands of dollars.
This imposes a higher risk level to
Here at the MAE we have embarked on a program designed to help businesses in specific niches locate reputable, competitively priced merchant services. Our thinking is that many business owners (especially those starting new ventures) really have little or no idea how credit and debit card processing works, what they will be charged for those [...]
If you are an Australian merchant looking to do online business globally, you'll obviously need to offer your customers the ability to use credit cards and debit cards for their purchases.
We have an excellent recommendation to help you establish a merchant account for your Australian website.
The Transaction Group is a reliable source for international ecommerce transaction services.
As the owner of a small business, you probably already understand the typical benefits of being able to accept credit cards processing for electrician's services – namely, increased revenues, and no worries about checks from customers being returned as NSF.
But there is another more recent advantage to having merchant services for your electrician business.
One of the most often ignored factors facing new business owners is the necessity of having to obtain a merchant account for their start up business. Often lost amongst the issues of setting up bank accounts, buying supplies, leasing premises, ordering inventory, etc., the ability to accept credit cards is pretty well a requirement for [...]
As the owner of a rental car agency, you already know the importance of being able to accept credit cards from your customers. Having a 'card present' credit card terminal attached to your merchant account for your car rental agency is a given. It allows you to swipe and authorize clients' cards in your agency's [...]
Are you the owner of a property, commercial or residential, from which you receive rental income?
If so, in the past you would normally have to be paid by your tenants with a check, each and every month.
But now you can accept credit and debit card payments. With a merchant account tied to your [...]
Just a short note to inform new visitors to our site of how we can help you find a card processing provider for your particular business. What we try to do is give merchants a choice of reputable providers for their specific needs. So we have solutions for internet, retail, wireless and phone/mail processing. Not [...]
If you are the owner or operator of a kiosk in a shopping mall or other commercial environment, there are several merchant account and processing solutions available allowing you to accept Visa, MasterCard, Amex and Discover cards from your customers. There are, of course, three major benefits to being able to process debit [...]
Our top recommendation for processing services for footwear and shoe store retailers is Charge Inc., which has been one of America's leading processing providers for over 15 years.   With Charge's easy online application process, you will enjoy a lot of benefits, including: no application or upfront fees processing rates as low as 1.00% on [...]
Take advantage of the many benefits of being able to accept credit and debit cards in your clothing store. With a merchant account for your retail clothing business, you'll be able to enjoy: increased average sales from your existing customers, as most of your customers will spend more dollars per transaction when they pay [...]
You know a lot about cutting, styling and coloring your customers' hair. But do you understand all the benefits of being able to accept credit and debit cards utilizing a hair salon merchant account? Many customers these days don't like to carry cash, so allowing them to pay for their hair styling with a debit or credit card translates into more customers for you.
Now in our sixth year of helping both U.S. and international merchants locate merchant services for their businesses, MAE is pleased to launch its new website design. The new design with its fresh 'look and feel' should assist merchants in navigating through the site's informative pages. And importantly, we have added a blog, [...]